AUSTIN – The Texas Department of Public Safety (DPS) today graduated three Troopers and three canines from an eight-week training program. These canine teams will join 41 other DPS teams stationed throughout Texas, including seven explosive-detection teams stationed in Austin.
"DPS canine teams bring specialized skills to law enforcement, and are a proven force multiplier in the department's efforts to detect and disrupt drug trafficking and other criminal activity in Texas," Director Steven McCraw. "These three expertly trained Troopers and dogs are a welcome addition to our program, and the state of Texas will be a safer place with them on the job defending our communities from a variety of threats."
One of the dogs was obtained from the U.S. Department of Defense, and the other two were received through donations. All three canines are Belgian Malinois, and the newly-trained dogs will be used for drug detection.
The new canines and their duty stations are as follows (and pictured above from left to right): Maya (Madisonville); Julio (Laredo); and Renegade (Waco).
In 2016, DPS canine teams assisted in the seizure of approximately 12,630 pounds of marijuana, 322 pounds of cocaine, 75 pounds of heroin, 520 pounds of methamphetamine, 141 pounds of hashish and $5.8 million in cash.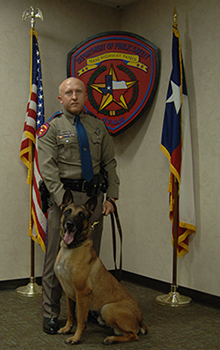 ### (HQ 2017-038)